Overview: Classroom Culture & Environment
When children feel safe and supported and are aware of their responsibilities, they are more likely to give their best effort.
Create a climate during MTP that encourages children to participate, challenge themselves, and support one another. Your physical environment is one tool you can use to help children meet these goals. An organized space where you and your children have what they need at their fingertips is supportive. When you have materials you need on hand, and children have what they need for reference or to demonstrate their understanding, instructional time is maximized.
The Physical Environment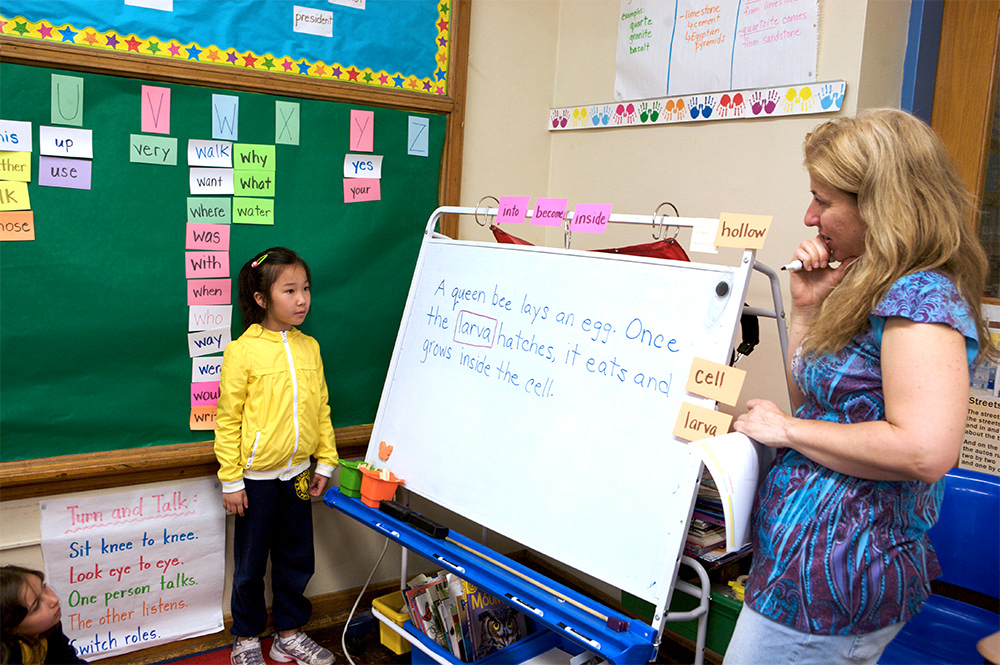 The whole group meeting area builds a sense of community. It makes it easier for the children to see the board and allows for more interaction among children so they can share their thinking. Make sure to have the rug itself arranged horizontally (instead of vertically) so the children will be closer to the board.
A typical board is arranged with:
High frequency words on top
Vocabulary words on the side
Two different colored markers
Pointer
The board should be close to the word wall in order to reference it and interact with the words on it.
Post useful anchor charts beside the meeting area for reference. Examples can include:
Carpet time responsibilities
Word wall cheers
Reading strategies
Turn and talk procedures
Keep supporting materials nearby for easy access when you are teaching. Useful materials include:
wipe off boards
chart paper or pocket chart
index cards
magnetic letters
Responsibilities and Procedures
For Message Time Plus to have the biggest impact on children's reading and writing skills, it is helpful for them to understand the routines around this instructional practice and their responsibilities during it. Procedures that you plan and model, give the children practice with, and then reflect upon will be the ones that are most effective. While the children in your classroom have their own set of unique strengths, interests, and needs, below is a list of common procedures that will help ensure their success during MTP.
Procedure
Sample Language
(what you will be teaching and why it's important)
How to come to the rug
"Today we will practice moving from our seats to the rug while singing our carpet song. By understanding exactly what to do, we will have more time for learning."
How to sit on the rug
"Today we will learn how to sit on the rug so we can stay focused. By focusing on our learning, you will be taking care of yourself and others around you."
Responsibilities for each step of MTP
"Today we will learn about the different steps of MTP and what our roles are for each one. By understanding what's expected, we can take care of ourselves and therefore do our best learning."
Think, turn, and talk
"There will be times during scaffolding and the mini-lesson when we will turn and talk with a partner. Sharing our thoughts and listening to others will help us learn more."
Using dry erase boards (or other materials such as notebooks, etc.) during the lesson
"Today we will learn the procedure for using our own white boards. Being able to write down our thoughts helps us process and remember what we learn. We will practice this together so that everyone knows exactly what to do."
Calling children to the board for scaffolding
"It's important that we understand how children are chosen during scaffolding so there is no confusion about what to do. Each day, I will pull three index cards out of our stack. If I pick the one with your name on it, you will get a chance to come to the board. If your name is not called, you will be still be involved by listening, thinking, and learning while your friend is at the board."
Cheers
"Today we will learn different cheers that we can use to support and encourage each other. Each time that you come to the board for scaffolding, you will have a chance to choose a cheer that you would like the class to do for you."
Ways to engage children
"Today I will teach you how to 'whisper in your hand.' This is one way everyone can share their thinking at the same time and be active learners."
Introduce high frequency words
"On Mondays, we introduce new high frequency words. Today I will teach you how to snap and clap the letters of these words so you can learn them on your own."
Signal to turn attention back to the teacher after turn and talk, using white boards, etc.
"When you hear my clap (or me say, 'one two three eyes on me,' you say 'one two eyes on you.') That is your signal to turn your attention back to me. It's important that we practice this procedure so we can get ready to learn as a whole group again."
What to do if… a child doesn't have a partner
"We are doing such great work we when turn and talk to our partners. But sometimes our partners are absent! Let's learn what to do when our talk partner is absent so that everyone still gets to participate."
How to stand at the board for scaffolding
"Today we will practice how to position ourselves at the board during scaffolding. We have a special spot that allows us to see the board and also face our friends at the same time."
Transition Songs
Songs are a fun way to help children learn. Use these songs to transition your children to the large group meeting area or to gain everyone's attention once they are seated there.
Two Little Hands…
(Sung to the tune of "Wheels on the Bus")
Carpet Chant
(Sung to the tune of "Frere Jacques")

Two little hands go clap, clap, clap,

Two little feet go tap, tap, tap,

One little body turns around

and slowly, quietly sits right down.

Eyes are looking.

Ears are listening.

Mouths are closed.

Mouths are closed.

Hands and feet are quiet.

You should really try it,

Let's begin, let's begin!