Environment: Books
A large and balanced book collection conveys the message that this is a classroom where reading is valued, purposeful, and constant.
The book collection contains a variety of high quality children's books that represent a balance of genres (e.g., fiction, non-fiction, and poetry) and books that are developmentally appropriate for the students' age and reading levels. The books appeal to children's interests, gender, and cultures, and they can easily access them for enjoyment and instructional purposes. The book collections provide children exposure to diverse, authentic language experiences and culturally diverse content. Books are categorized, some placed throughout the room, and others displayed with their covers facing out to easily view the picture, title, and author.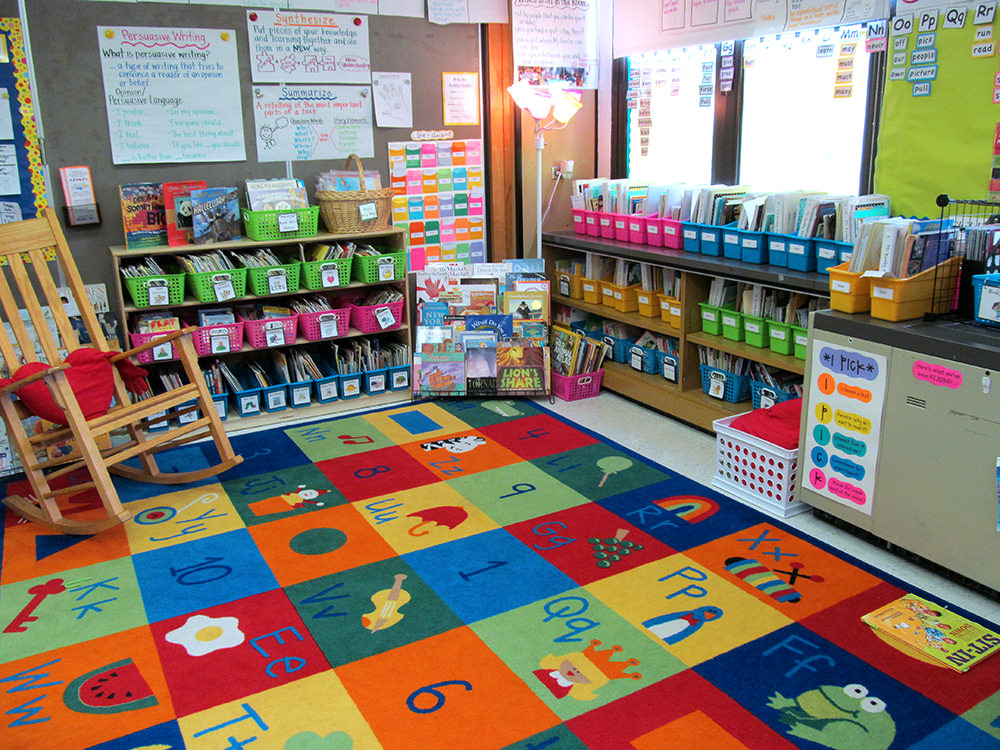 Guidelines for Choosing Quality Children's Literature
Every year publishers produce hundreds of children's books. Use the following guidelines to help you choose quality children's literature for your classroom library.
Engaging Content - Quality children's books have interesting and engaging content. Fictional books should have detailed plots with remarkable characters. Informational texts should be appealing and accessible. The books should open the world to children and transport them to wonderful places. Children should still be able to connect to the content in some way, whether through background knowledge or text-to-self connections. The books should also be interesting to you, so that you can bring your own enthusiasm to them if you choose to read them aloud.
Rich Vocabulary - Quality literature should celebrate language and contain the rich vocabulary not typically present in daily conversation. Children are exposed to a greater number of vocabulary words through books that contain vivid and complex language.
Complex Sentences - Quality literature contains a variety of sentence structures and complexity. While beginning readers might struggle with complex sentence structure, children are able to comprehend increasingly complex sentences during a read aloud. Read aloud texts should also introduce children to other sentence structures, such as dialogue and compound sentences.
Appealing Illustrations - The illustrations should be appealing and work in conjunction with the text to help children build comprehension. In informational texts illustrations should be clear and informative. Illustrations should also offer a diverse view of the world.
Stand Out Print Features - High quality children's books offer a wide variety of print features including sidebars, speech bubbles, or headings. Other print features include varied text size for emphasis and research tools such as glossaries and indexes.
Timelessness - High quality children's books should have a timeless quality about them. They invite rereading. Children should want to return to the book over and over again. The story and characters should stand the test of time and not be based on current fads or popular culture.
Books in Good Condition
Books that are in good condition have covers that are intact, show only minor signs of wear, and are free of rips and tears.  Children are aware what a book in good condition looks like and are taught to treat books responsibly. A system is in place to care for books when they are worn (for example, placing it a basket labeled "book hospital" so you can repair it). Having and keeping books in good condition shows how important books are to the classroom.
Checklist for Building a Balanced Book Collection
Building a child-friendly library means creating a balanced collection of books that children can't wait to get their hands on. It also means knowing your children and your collection so that you can easily match books to readers' interests and skills. Use this checklist to ensure that your book collection contains the types of books that will engage and excite your readers.
Creating a Leveled Library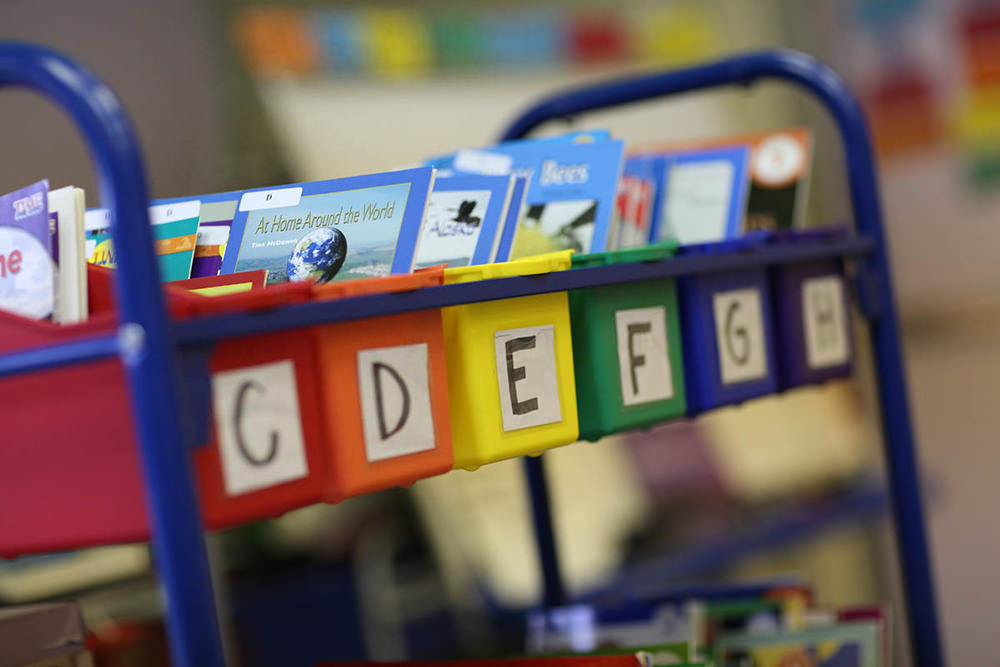 Leveled books promote high-success reading opportunities for all children by giving them the opportunity to read books at their independent reading levels. A book is considered at a child's independent level if the child can read the text with 95% accuracy (i.e., no more than one error per 20 words read). Independent reading of a leveled text is relatively easy for the reader.
In most classrooms, it is recommended that at least one third of the library be leveled. Children often begin their search for their "just right" books by browsing the basket that matches their independent reading level.
To create a leveled library, begin by taking an inventory of the books you already have. Some trade books come with levels already assigned to them. Some publishers create series of books for emerging and early readers like "I Can Read Books" or "Step into Reading." Other options include "Scholastic Reader" leveled series, "Hello Reader" leveled books, or "Ready to Read."
If your books are not part of an easily identifiable pre-leveled series, they can be leveled in accordance with one of the many systems that exist. Use the leveling system that is already in place in your school and code your books accordingly. If there isn't one, then try the Fountas and Pinnell's Guided Reading alphabetic levels (A-Z) which is arguably and currently the most popular leveling system.
Consider which levels would be appropriate for the readers in your room. Use a correlation chart to guide your decision making. For example, a typical first grade leveled library might include books between levels A and M in the Fountas and Pinnell leveling system.
There are several sites and apps that can assist you in leveling your books.
Book Leveling Apps
SCHOLASTIC BOOK WIZARD APP - The FREE Book Wizard app from Scholastic allows you to either scan the bar code of the book or type in the name of a title, author, or keyword associated with the book and find the level. Not all books are in their database, but once a book is located you can view a synopsis of the book and basic information, including the level. This app also allows users to create an inventory of all titles in a classroom library.
LEVEL IT APP - Level It is a paid app, available for iPhone and Android users. It has the same manual search features as Book Wizard, and the levels displayed are easy to see. This app also includes features to inventory your classroom library, create individual child profiles, and check in/out books to specific children.
LITERACY LEVELER APP - The Literacy Leveler App by FikesFarm, LLC is another paid app similar to the Level It app, but currently only available for iPhone users. It allows users to manually search by title, author, or ISBN, as well as scan each book's bar code. It also allows you to see a list of all the books in your classroom library at a given reading level.
CLASSROOM ORGANIZER APP - Another FREE app for iPhone and Android users is the Classroom Organizer app from Booksource. The app can determine reading levels and organize and track books in the classroom library.
Book Leveling Websites
A TO Z TEACHER STUFF LEVELED BOOKS DATABASE - The Leveled Books Database at A to Z Teacher Stuff allows users to search by title or author to determine the reading level. You have the option of searching to find Guided Reading Level or Reading Recovery Level.
SCHOLASTIC BOOK WIZARD - The Scholastic Book Wizard is also available through a website. Here you can view a book's Grade Level Equivalent, Guided Reading Level, or Lexile Measure.
FOUNTAS & PINNELL LEVELED BOOK WEBSITE - The Leveled Book Website from Fountas & Pinnell is available as a subscription service. There is an annual membership fee, however, group discounts are also available.
RENAISSANCE.COM - This is Accelerated Readers (A.R.) free source for leveling books. Once you go to the site, go to the "Store" button and you can search for books by title or author.
If you can't find a level for a book, you can start by comparing it to similarly leveled books, or use leveling criteria available from one of the leveling systems (such as Fountas and Pinnell's Guided Reading Level Criteria), to level the book yourself. This often is best done as a grade level team, so you can discuss and decide on levels together. Leveling criteria takes into account things like:
Vocabulary and word choice
Sentence length and complexity
The length of the book
Subject matter
Repetition and predictability
Picture support
Age appropriateness and interest level
Finding Books for Your Leveled Library
It's important that children spend time reading books that they can decode with a large degree of accuracy. This is especially true for emergent and early readers who need a great deal of practice developing their print skills. It is suggested that emergent and early readers read about 10 books each week (rereading them often to strengthen their decoding skills). Transitional and fluent readers, who don't tend to re-read the same book but benefit from reading books in the same series, read anywhere from 2-10 books per week depending on their level.
To support children in this work, your library will have to contain a large number of books, in a wide range of topics and genres, that are both decodable and interesting for these readers. But what if you need more books?
In order to build a rich classroom library, sometimes you have to be resourceful! Below are some suggestions for ways you can stock your library with books your children need and will enjoy.
Libraries – often have sale books

Garage sales – sale books

Bookstores – many have special discount days for teachers or sale racks

Donations – some teachers write letters to families asking if they have any books that they might be able to donate to the classroom

Book club points – Scholastic book clubs, etc.
Creating and Maintaining a Home Lending Library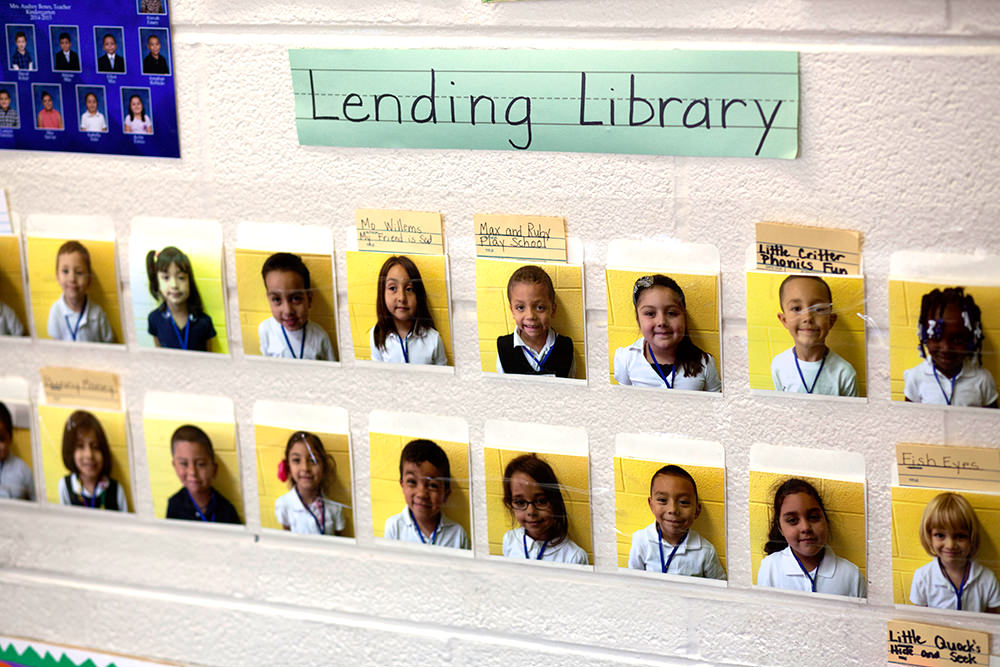 The home lending library is a powerful tool that you can use to promote reading. By providing books that children and family members can borrow, you encourage and support reading at home. Families have access to quality literature and can create positive interactions around books with their children as they read and talk about these books together.
When selecting books for your home lending library, variety is important. This library should be appealing to your children's and families' interests. These books will be read both by the children and to the children so having a range of levels and books in the home languages of your families is also important.
Guidelines for Creating Your Home Lending Library Collection
Books represent a range of reading levels
Books represent a range of genres (non-fiction, fairy tales, chapter books, etc.)
Books are multicultural
Books reflect children's home languages
Books include some of your class's favorites
Books are rotated to keep children and families interested in them
Give responsibility for the care and return of the books to the children in your room and their families. Ask the children for help keeping track of the books. Use a card system similar to one a public or school library uses.
Developing a Checkout System Checklist
Create a Lending Library Check Out Board. Use poster board and attach a book pocket with each child's name on it. Hang this board beside the home lending library.

In the back of each book, add a book pocket and an index card. Write the title of the book on the index card.

When a child or family member borrows a book, they take the index card from the back of the book and place it into the child's pocket on the board.
Check Out Procedures
There are many ways to schedule check-out procedures for your home lending library.
A daily checkout - children borrow a book at the beginning of each day and return it the next day.

A weekly checkout - children borrow one or two books on Monday during pack-up time and return them all on Friday morning.

A group check out - assign each child to a group; each group has one day each week when they borrow from and return books to the home lending library.
Helping children understand the procedures and their responsibilities for managing the home lending library is crucial to its success. As with any new procedure, the more you model the correct use of time and materials and give the children time to practice, the more successful the procedure will be. Important lessons include: how to select a book, how to use the check-out system, and how to take care of the books at home.
Where to House Your Home Lending Library
When deciding where in your classroom to house the home lending library, think about how to make it visually appealing so children (and families) will be motivated to borrow books. One of the best places to house your home lending library is close to the classroom door so children and families will be reminded to use the library. Face books out on a book rack, if possible. Hang a poster or sign advertising the presence of these books. Keep your checkout system near the home lending library for ease of use. If you don't have a separate space, consider putting these books in their own special basket in your classroom library so children can access them. Label them "Home Lending Library" so children will know which ones they can borrow.
Helping Families Understand the Home Lending Library
During back-to-school night or parent-teacher conferences, you can show families where the home lending library is located and explain its purpose. You can review class expectations and procedures around borrowing and returning books. Also, discuss and hand out tips for reading with children and talking about books. Or, if you maintain a website for families, you can post this information there.
Family Tips for Using Books from the Home Lending Library
Help your child be responsible for the books.
Help them find a special place to keep these books.
Keep the books in baggies when they are not being used.
Help your child create reading routines such as finding a comfortable spot to read and finding a regular time to read.
Sit and read with your child – listen to your child read, take turns reading, read to your child.
Encourage other family members to read with your child.
Make the books come alive – use "silly" voices, act out some of the parts.
Talk about the books – discuss favorite parts, ask questions, compare this book to another you have read.